Huckaby's  The 99% Project apart of an installation of 101 Lithographic Portraits Produced at Brandywine Workshop and Archives. He began this series by drawing family members and individuals he encountered near his neighborhood, Huckaby focuses less on locale than on the process of engaging with people who might otherwise be marginalized in society. Amidst creating works he asks his subjects to describe what is most important to them and then includes fragments of their comments beneath their likeness. Through his process, Huckaby emphasizes direct observation, reciprocity, empathy, and authenticity.  His approach humanizes the "otherness" of strangers, particularly those likely to face discrimination.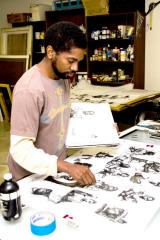 American Born May 28, 1975 in Fort Worth, TX
Sedrick Huckaby is a painter born in Fort Worth, TX. He studied art at Texas Wesleyan University, Fort Worth; received a BFA from Boston University in 1997; and an MFA from Yale University, New Haven, CT, in 1999. Huckaby is known for his textured approach to painting in which — through the use of thick, impasto paint — he creates murals with a textile-like quality. His work has been exhibited at the San Francisco Museum of Modern Art; Whitney Museum of American Art, New York City; Museum of Fine Arts, Boston; Minneapolis Institute of Art, MN; Art Institute of Chicago; and Nasher Museum of Art at Duke University, Durham, NC, among other institutions.

Huckaby is an assistant professor of art and art history painting at the University of Texas, Arlington. He is married to fine arts photographer Letitia Huckaby.
Suggested Topics for Portraiture (in studio art and art history education), Visual Narratives, and Expressive Writing
Portraiture (in studio art and art history education), Visual Narratives, Expressive Writing:
The use of words or a combination of words, symbols, and human images to convey deeply felt emotions.
Creative people — artists, musicians, dancers, and writers — often create new works bearing witness to the death of a loved one, especially when it is a tragic death or the result of a catastrophic event like an environmental or health disaster such as COVID-19.