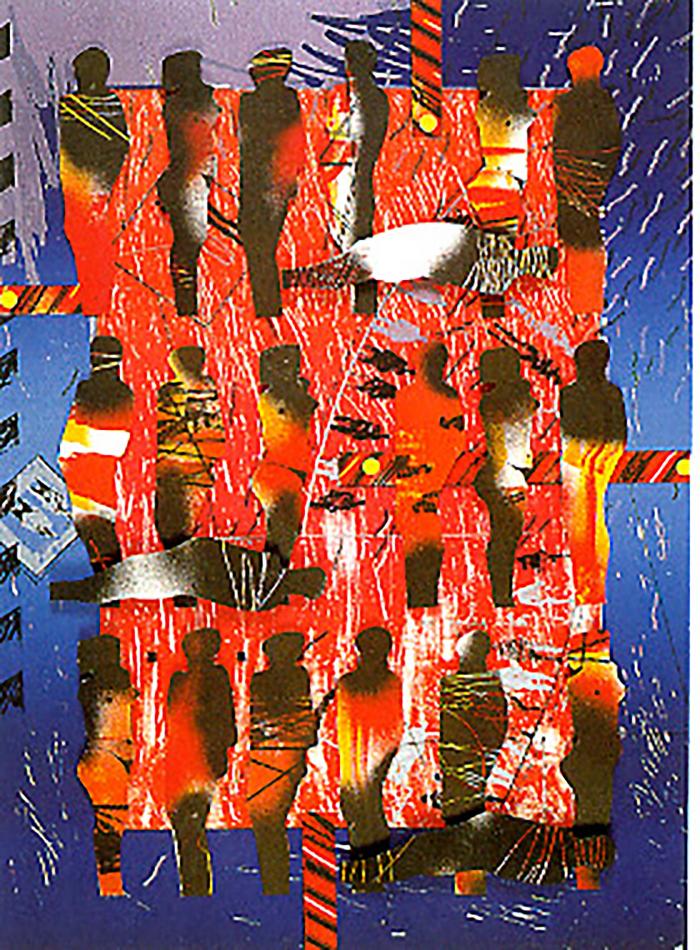 Blues for the Middle Passage II
John Scott's figurative collage, blues for the Middle Passage II, evokes the forced to anonymity in the physical vulnerability imposed on Africans transported across the Atlantic – the Middle Passage – as cargo to be sold into slavery. Commercial goods from Europe were shipped to Africa for sale and traded for enslaved Africans. Africans were in turn brought to the new world and traded for raw materials. Call out silhouettes of male and female figures, so I'm bound, others fallen, are closer together or aligned in rows across the bed, raft like panel on top of dark sea. The casually scripted phrase, "No Homeland ," Summons of the plight of the roughly 20 million Africans sold into slavery. A Narrative of New Orleans, Scott referred to his work as such as thinking: "if one looks at the blues, the blues is a narrative. It's a story. Jazz just elevates the blues leaving the store and just taking the structure. I think my work can be taken on many levels. It is narrative in nature but the narrative is very abstract. There are other times when there's nothing more than the rhythm, the color and the structure."
"In the African-American community, he was the first to be embraced by the white world. He was an artist of prominence that could rival anyone in the city. He became the role model, the pinnacle that all of us strove to be like." — artist Willie Birch, on John T. Scott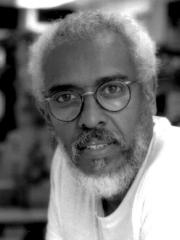 American Born June 30, 1940 in New Orleans, LA
John T. Scott was a sculptor, painter, printmaker, and collagist born in New Orleans, Louisiana. He earned a BA at the Xavier University of Louisiana in New Orleans and an MFA from Michigan State University in East Lansing, where he studied under painter Charles Pollock. He also taught at Xavier University for 40 years. Among Scott's awards and honors received are a grant to study under sculptor George Rickey, an honorary Doctor of Humanities from Michigan State University, an honorary Doctor of Humanities from Tulane University in New Orleans, and a MacArthur "Genius Grant" from the John D. and Catherine T. MacArthur Foundation. His works are in several permanent collections including The Ogden Museum of Southern Art in New Orleans, The Louisiana State University Museum of Art in the Shaw Center for the Arts in Baton Rouge, Louisiana; The Amistad Research Center Collection at Tulane University in New Orleans, The Blanche and Norman C. Francis Collection at the Xavier University of Louisiana, Loyola University in New Orleans, The Museum of Fine Arts in Houston, Texas; The Scripps College in Claremont, California; The Smithsonian American Art Museum in Washington, DC; Fisk University in Nashville, Tennessee; Louisiana Endowment for the Humanities in New Orleans, and the Baltimore Museum of Art in Maryland.
Suggested Topics for World History and Visual Literacy
World History, Visual Literacy
The archives of history have manifold reference points and are opening up to public access to offer new narratives based on the documents and evidence that exist, including first- person notes and recorded interviews. As new resources become available and new evidence comes to light, an "archival fever" has arisen among artists who incorporate found photographs and documents into their artwork and offer profound, documented evidence and versions of history that may have been hidden, denied, or misrepresented previously.

Our abilities as viewers to understand the messages and connections that the artists hope their imagery will convey is largely based on the extent of our own experi- ences and information that we bring to viewing and interpreting the artwork. In many countries, these types of messages are not brought to broad public attention and are often considered subversive.