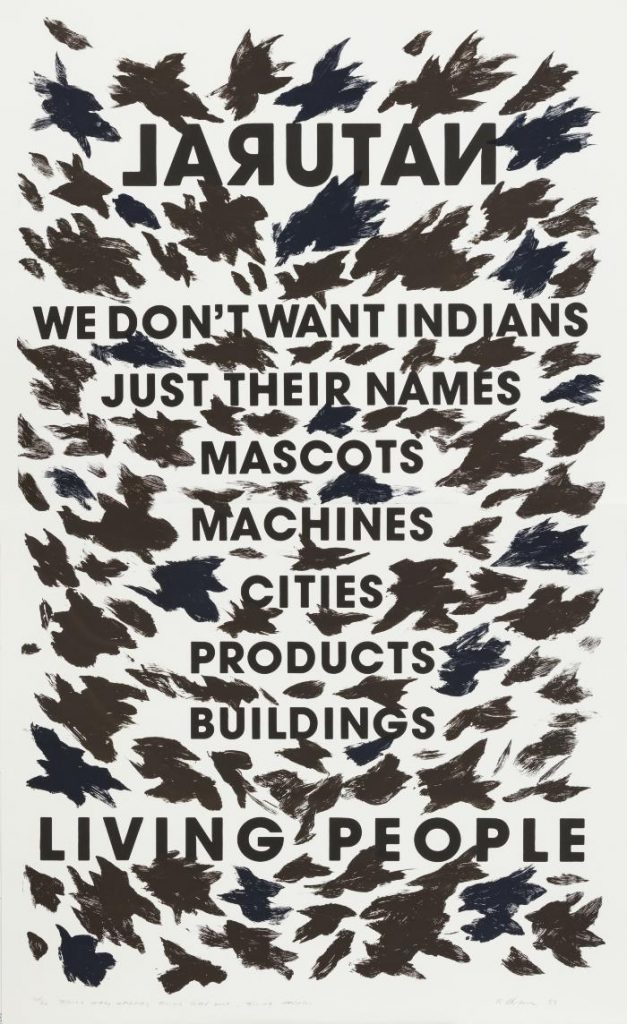 Edgar Heap of Birds' 1989 Silk Screen
With a bright blue sky and lacy clouds overhead, a building stands alone in an empty lot in the Bronx, a borough of New York City. In this dreamlike scene, the protruding prow of a large ship, placed high against the wall, casts a dark shadow. A mood or sense of isolation prevails. Who once lived in this abandoned building? Where did everyone go? What stories played out in these spaces where only brick, paint, and bits of wallpaper remain? Finally, what about the boat, up high and dry and out of water?
In 1974, when Toshio Sasaki arrived in the United States, the Bronx was in social turmoil. Sasaki saw the devastation. Property was being abandoned and destroyed. People, especially the poor, were displaced and their communities destroyed. As a recent immigrant, Sasaki experienced loneliness and a loss of community and family. In 1991, while making Bronx Project, Toshio Sasaki looked back to a time when he was like a ship out of water.
"I believe that the challenge is to expedite a new cultural awareness and foster cross-cultural dialogue through an accessible visual language."

– Toshio Sasaki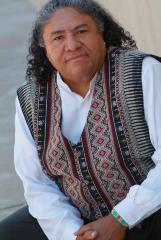 American November 22 1954
Wichita, KS
Native American artist Edgar Heap of Birds (Hock E Aye Vi) was born in Wichita, KS. Heap earned a BFA from the University of Kansas, Lawrence; studied at the Royal College of Art, London; and earned an MFA from the Tyler School of Art & Architecture at Temple University, Philadelphia.

He has exhibited his works at institutions such as the Museum of Modern Art and Metropolitan Museum of Art, New York City; Cheyenne and Arapaho Tribal Nations, Concho, OK; National Gallery of Canada, Ottawa; Museum of Contemporary Art Australia, Sydney; the Documenta contemporary-art exhibition, Kassel, Germany; Orchard Gallery, Derry, Northern Ireland; Berkeley Art Museum, California; Association for Visual Arts, Cape Town, South Africa; Hong Kong Arts Centre, China; Bandung Institute of Technology, Indonesia; Grand Palais, Paris; Nanyang Technological University Centre for Contemporary Art, Singapore; and the Venice Biennale, Italy.

His work includes multidisciplinary forms of public art messages, large scale drawings, acrylic paintings, prints, works in glass, and monumental porcelain enamel on steel outdoor sculpture.

In 2012, Heap of Birds was named a United States Artists Fellow and Distinguished Alumni of the University of Kansas in 2014. He has received honorary doctor of fine arts and letters degrees by the Massachusetts College of Art and Design, Boston, in 2008; Emily Carr University of Art and Design, Vancouver, Canada in 2017; and California Institute of the Arts, Valencia, in 2018.
Suggested Topics for Social Studies and U.S. History
Social Studies and U.s. History
This print reflects the artist's desire to challenge stereotypes about Native American people — including the exploitative and caricaturing use of their names and images for sports and other commercial purposes — while the economic, educational, and cultural oppression of his people continues. The Black Lives Matter movement, which began in 2013 and gained increased urgency in in 2020, has focused renewed attention on stereotypes, marginalization, and oppression of people based on race, ethnicity, and religion. The awareness raised by Black Lives Matter has spurred many businesses to reexamine their branding and media strategies.