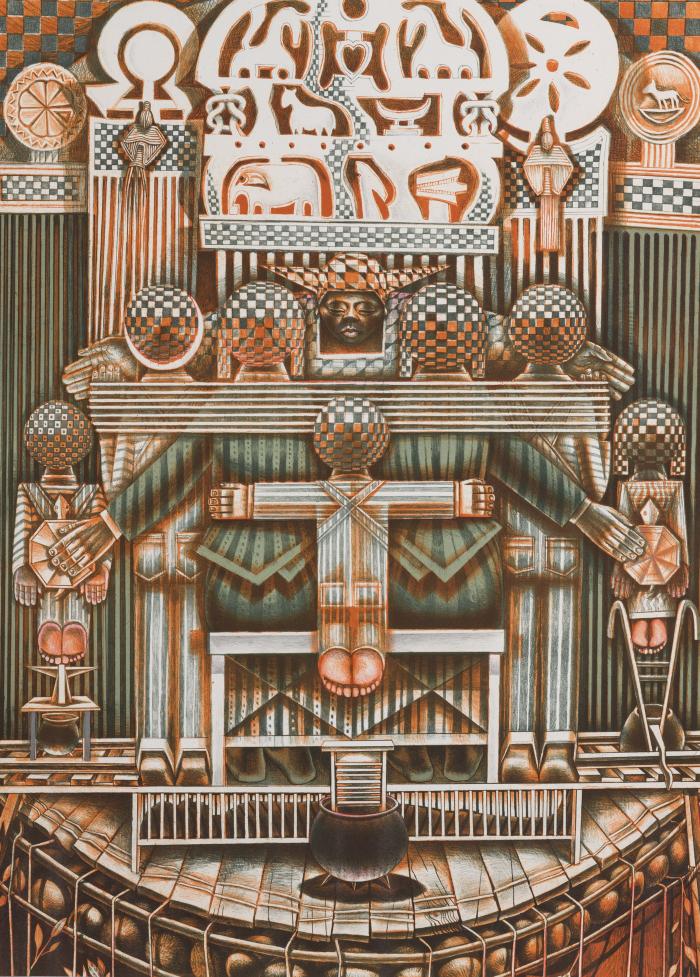 John Biggers designed Family Ark so that the three panels of the triptych could work alone or in combination. The orange-red of the center panel helps distinguish it as the centerpiece. Men stand, women sit, and children kneel in still reverence before an altar elaborately decorated with African motifs. Abstract and geometric, the figures seem more like icons than humans, even in their overalls and bare feet. Arms extend to include every family member. Visually, the scene is complex. Geometric shapes overlap, and circles repeat within more circles. Surfaces are lush with lines and shadows, light and dark. Patterns are drawn flat in some places but given the illusion of depth and perspective elsewhere. In addition to mythological references, Biggers included everyday things in his work, but he gave them new meaning as symbols of life, death, and regeneration. A small wash pot and scrubboard, front, and center in the foreground may serve as a metaphor for motherhood or the act of spiritual cleansing. In Family Ark, ceremonial African combs stand like tall columns or decorative banners across the background. A soft orange-red, the color of clay from the earth, adds a sense of warmth to this sacred space.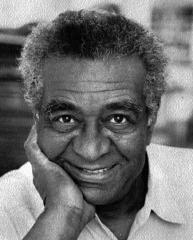 American Born April 13, 1924 Gastonia, NC

Born in Gastonia, NC, printmaker and muralist John Biggers earned a BFA, MFA, and PhD from Pennsylvania State University. In 1949, Biggers founded what is now the Department of Visual and Performing Arts at Texas Southern University, Houston. He initiated a mural program for TSU art majors in which every senior student was expected to complete a mural on campus: there are now 114 such murals on the university campus. Biggers was one of the first Black American artists to visit Africa to study African traditions and culture. Funded by a grant from the United Nations Educational, Scientific, and Cultural Organization (UNESCO), he and his wife traveled for six months in Ghana, Benin (then called Dahomey), Nigeria, and Togo in West Africa.