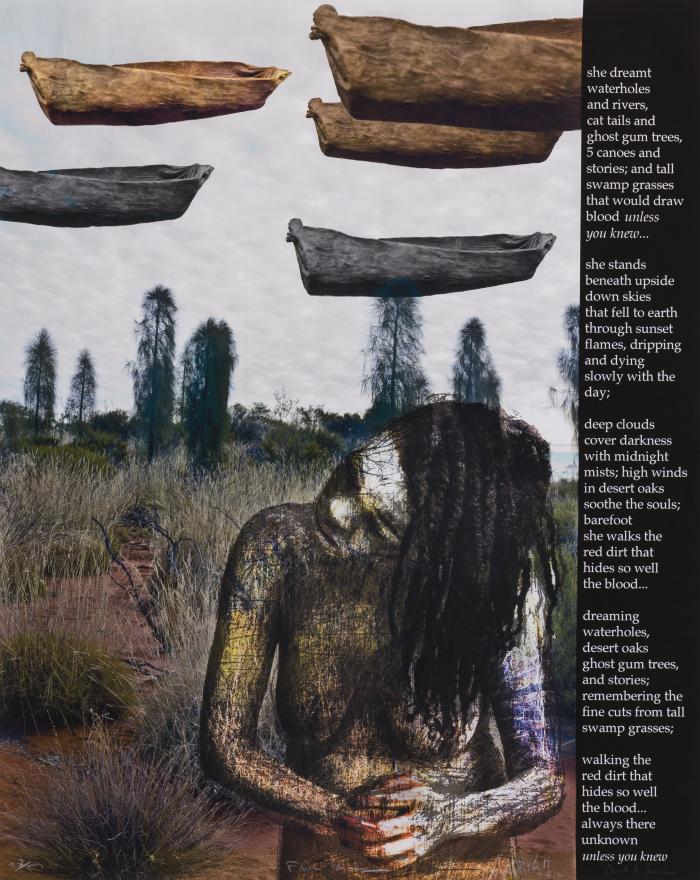 "A collaboration between Michael B. Platt, visual artist/image-maker and poet/wife Carol A. Beane.
Process: Platt originally created 5 Canoes as a pigment print, using Photoshop to digitally enrich its multiple layers. Brandywine's Master Printer translated it to offset-lithograph.
For the background landscape layers, Platt used his photographs of the area surrounding the monolith the Aboriginal peoples call Uluru in central Australia, a sacred site of myths and stories. The predominant vegetation: desert oaks, silvery shrubs, grasses sparsely on the red dirt, while extensive root systems hold soil in place—an ecosystem that offers survival and sustenance for those possessing knowledge of its possibilities.
The model's image began with a studio photoshoot, body painting with white theatrical make-up, then photographed in various poses. Models become figures, re-located, and contextualized in the melding of layers.
Platt used to say: 'you try all the possibilities, everything on the photoshop menu, and you don't stop until the magic happens…'
Content: Places, the history they hold and the stories they contain, were always significant elements of Platt's thematic visual inventory. Australia provided him with new material for his explorations. 5 Canoes establish a sense of space/place, referencing the First Peoples with the figure. Images of the canoes—a museum source— elicit considerations of migration, relocation, and displacement.
The poem speaks in another more intimate voice of the land, its histories, rememberings, and knowledge—survival. It also implicitly references the abuses perpetrated on indigenous peoples; injustices, until recently, omitted from the national narratives and minimized within the national history. A quiet voice urges acknowledgment of the ignorance and action to break the silence."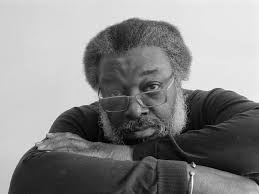 American Born April 24, 1948 in Washington, DC
Died January 20, 2019 in Washington, DC
Michael B. Platt was a photographer, printmaker, and scholar born in Washington, DC. He earned a BFA from the Columbus College of Art and Design, an MFA from Howard University, and studied for his postgraduate degree at the George Washington University. Platt's work can be found in the permanent collections of the Yale University Art Museum in Connecticut and the Library of Congress in Washington, DC. He lived and built his studio/digital printmaking workshop in Washington, DC, where he shared his knowledge, equipment, and passion for art-making using hand-painted models superimposed with collages and images from his photographs.
Suggested Topics for Expressive Writing
This print reflects the artist's desire to challenge stereotypes about Native American people — including the exploitative and caricaturing use of their names and images for sports and other commercial purposes — while the economic, educational, and cultural oppression of his people continues. The Black Lives Matter movement, which began in 2013 and gained increased urgency in in 2020, has focused renewed attention on stereotypes, marginalization, and oppression of people based on race, ethnicity, and religion. The awareness raised by Black Lives Matter has spurred many businesses to reexamine their branding and media strategies.