Frank Hyder's Frontiers B, 2016. The portait of a young indeginous individual. Leaves fill in the edges of the print, brushing over the figures face. Vertcal painted lines also occupy space on the figures face. Thin lines and hatching work to create detail and the illusion of depth.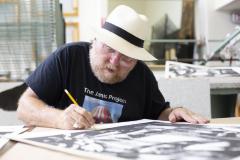 American Born October 29, 1951 in Audubon, NJ
Frank Hyder was born in Audubon, NJ. He received his BFA from the Maryland Institute College of Art, Baltimore; an MFA from the University of Pennsylvania, Philadelphia; and attended the Skowhegan School of Painting & Sculpture, ME. He has participated in more than 200 group shows and over 100 solo exhibitions throughout the Americas, Asia, and Europe, including ten individual exhibitions in New York City; in Venezuela at the Museum of Modern Art in Caracas, Museo Jacobo Borges, Museum of Contemporary Art of Zulia, Museo de Artes-Universidad de los Andes, and Museo de Arte de Coro; Pennsylvania Academy of the Fine Arts and LaSalle University Art Museum, Philadelphia; Carnegie Museum, Roseville, CA; National Museum of Catholic Art and History, Washington, DC; and The Noyes Museum of Art, Galloway Township, New Jersey.

Hyder is one of ten artists whose monumental inflatables formed the Giants in the City exhibition during Art Basel Miami in 2013. He also had a six-month exhibition at the Philadelphia International Airport. He was among 80 artists selected as part of an exhibition of graduates of the Maryland Institute College of Art celebrating the school's 160th anniversary. His Janis Project was exhibited at the Pennsylvania Academy of the Fine Arts, Philadelphia; The Art Students League of New York; and Michener Art Museum, Doylestown, PA. He was selected to create a work for the Pennsylvania Convention Center, Philadelphia, and a ceramic installation in Oxnard, California. He has created numerous murals with the Mural Arts Program of Philadelphia and an interactive project with the Chicago Transit Authority.

He was chairman of Fine Arts and faculty member at the Moore College of Art and Design and faculty member at the University of Pennsylvania Graduate School of Fine Arts, Philadelphia. His works have been featured in Color in Contemporary Painting, The Art of Watercolor, The Song of the City, and Artist Homes and Studios. He lives and works in Miami, FL.
Suggested Topics for Expressive Writing
This print reflects the artist's desire to challenge stereotypes about Native American people — including the exploitative and caricaturing use of their names and images for sports and other commercial purposes — while the economic, educational, and cultural oppression of his people continues. The Black Lives Matter movement, which began in 2013 and gained increased urgency in in 2020, has focused renewed attention on stereotypes, marginalization, and oppression of people based on race, ethnicity, and religion. The awareness raised by Black Lives Matter has spurred many businesses to reexamine their branding and media strategies.