Lois Delsarte employs the use of brilliant color and detail to execute his 1998 print Heaven and Earth. Vibrant greens, yellows, pinks, purples, and blues dominate the scene. A woman and child stand in a garden off the river bank in the foreground of the print. Delsarte uses shading to create the illusion of shadows and depth. A figure stands at the edge of the river, peering into the water that reflects back the image of the mass of trees looming on the other side. A lone house stands visible and prominent among the dense wood.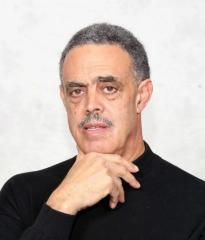 American Born September 1, 1944 in New York, NY Died May 2020 in Atlanta, GA
New York City-born painter, draftsman, muralist, printmaker, and poet Louis Delsarte earned his BFA from Pratt Institute, Brooklyn; an MFA from the University of Arizona, Tucson; and certification in Fine Arts Education from Brooklyn College. His work can be found in the collection of Clark Atlanta University Art Museum, on U.S. postage stamps, and in large-scale public murals in New York City and Atlanta. He is an associate professor of arts and humanities at Morehouse College, Atlanta, where he maintains his studio near historic Auburn Avenue.
Suggested Topics for World History and Visual Literacy
World History, Visual Literacy
The archives of history have manifold reference points and are opening up to public access to offer new narratives based on the documents and evidence that exist, including first- person notes and recorded interviews. As new resources become available and new evidence comes to light, an "archival fever" has arisen among artists who incorporate found photographs and documents into their artwork and offer profound, documented evidence and versions of history that may have been hidden, denied, or misrepresented previously.

Our abilities as viewers to understand the messages and connections that the artists hope their imagery will convey is largely based on the extent of our own experi- ences and information that we bring to viewing and interpreting the artwork. In many countries, these types of messages are not brought to broad public attention and are often considered subversive.