Hank Willis Thomas is a photo conceptual artist working primarily with themes related to Identity, history and popular culture. Negroes to be sold appropriate and riffs on the form and appearance of eighteenth-century advertisements for the sale of slaves, inserting familiar silhouettes of contemporary sports and entertainment figures and please of the now iconic figures used to represent enslaved bodies. Realized as a laser-cut relief print, Thomas has captured the style and tactile quality of eighteenth-century prints with raised lettering that renders  the printing surface as a sculptural relief. The original auction advertisement appropriated by the artist was published in Charleston, South Carolina on April 26th, 1760.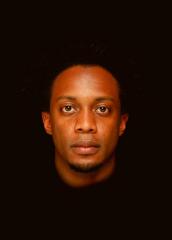 American Born March 17, 1976 in Plainfield, NJ
Hank Willis Thomas is a photographer, sculptor, and conceptual artist born in Plainfield, NJ. He earned his BFA in Photography and Africana Studies from New York University, an MA in Visual Criticism, and later an MFA in Photography from California College of the Arts. He also holds two honorary PhDs from the Maryland Institute College of Art as well as the Institute for Doctoral Studies in the Visual Arts. His work can be found in the collections of the Museum of Modern Art, New York; the Solomon R. Guggenheim Museum, New York; the Brooklyn Museum, New York; the High Museum of Art, Atlanta, Georgia; and the National Gallery of Art, Washington, DC; among many others. In 2016, he founded For Freedoms, a nationwide art initiative that has produced exhibitions, town hall meetings, billboards, and public art to spur greater participation in civic life. He lives and works in Brooklyn, New York. The Pennsylvania Academy of the Fine Arts' collection features one of his works titled All Power to All People (2016).
Suggested Topics for World History and Visual Literacy
World History, Visual Literacy
The archives of history have manifold reference points and are opening up to public access to offer new narratives based on the documents and evidence that exist, including first- person notes and recorded interviews. As new resources become available and new evidence comes to light, an "archival fever" has arisen among artists who incorporate found photographs and documents into their artwork and offer profound, documented evidence and versions of history that may have been hidden, denied, or misrepresented previously.

Our abilities as viewers to understand the messages and connections that the artists hope their imagery will convey is largely based on the extent of our own experi- ences and information that we bring to viewing and interpreting the artwork. In many countries, these types of messages are not brought to broad public attention and are often considered subversive.