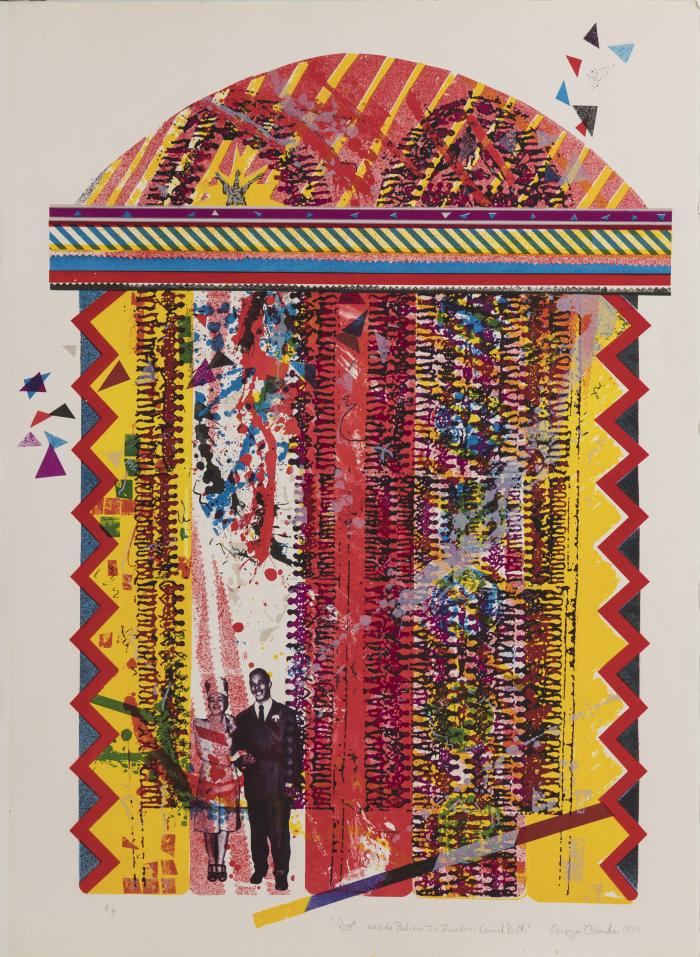 Quest: We Who Believe in Freedom Cannot Rest
Orisegun Bennett-Olomidun
"The print, Quest: We Who Believe in Freedom Cannot Rest also employs illusion. The composition is of a couple in a doorway of a structure that is either a house or a building. A photographic image of a neatly dressed black couple contrasts sharply with the expressionist renderings of the walls and roof of the building from which they emerge. The viewer's eye is drawn to the walls of the building because of the contrast in tone. On closer inspection, the walls and roof become the outlines of a famous 19th-century print depicting slaves stored in the holds of ships bringing black Africans to the New World. The title alludes to the struggle of African Americans' quest for political and economic freedom. The print provides visual evidence of the nature and history of the struggle. The artist celebrates the legacy of the slaves, urges their descendants and us to never forget the reason for their struggle."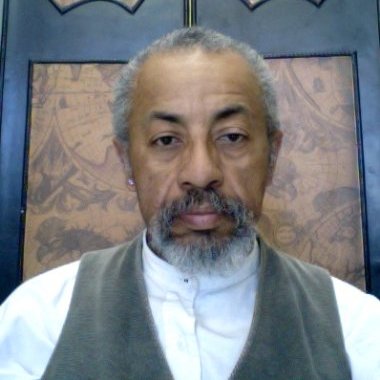 Orisegun Bennett-Olomidun
American Born June 15, 1951
Orisegun Bennett-Olomidun earned a BFA from the University of Cincinnati and the Ohio School of Design. His work has been exhibited at institutions including the Artware in Chicago, Illinois; the Karamu House Gallery in Cleveland, OH; Art on the Square Gallery in Richmond, VA; the University of Wisconsin, the Museum of Science and Industry in Chicago, Kent State University in Ohio, and Isobel Neal Gallery in Chicago.
Suggested Topics for World History and Visual Literacy
World History, Visual Literacy
The archives of history have manifold reference points and are opening up to public access to offer new narratives based on the documents and evidence that exist, including first- person notes and recorded interviews. As new resources become available and new evidence comes to light, an "archival fever" has arisen among artists who incorporate found photographs and documents into their artwork and offer profound, documented evidence and versions of history that may have been hidden, denied, or misrepresented previously.

Our abilities as viewers to understand the messages and connections that the artists hope their imagery will convey is largely based on the extent of our own experi- ences and information that we bring to viewing and interpreting the artwork. In many countries, these types of messages are not brought to broad public attention and are often considered subversive.