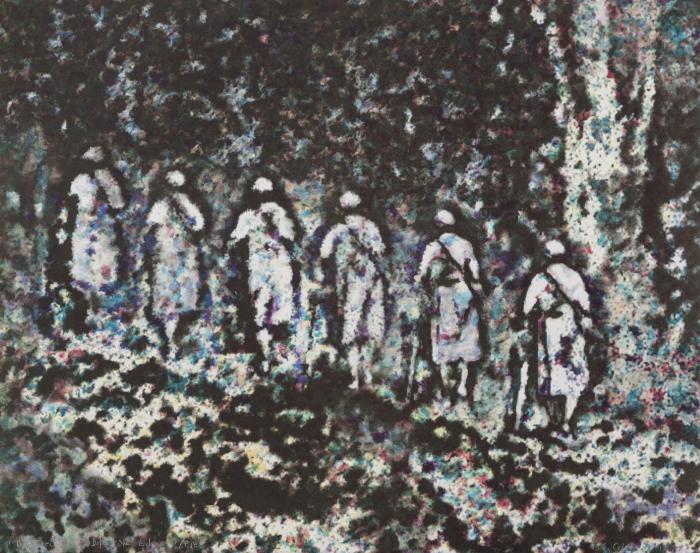 Coleman created this print as part of mourning the death of her mother.
This print titled "The Inevitable Departure" grows out of a video graphic and computer graphic slide piece that was part of a solo exhibition the Philadelphia Print Center in the fall of 1996. That show titled, "Borderland," and this print deal with my mourning the death of my mother, Mary Morse Coleman, who died in September 1995. The image in the print is taken from a videotape made by my partner, Alan Powell, on a walk that I took with my mother some time ago. By still framing the videotape I put the series of images in into a computer — totally removed the background electronically — composited the 'walk cycle' and repainted a background/foreground. The image was designed to be printed from an RGB file to a CMYK file via an ink jet printer. In a creative collaboration with KD Graphics the color separations were adjusted and finally printed on polyester film using a large format ink jet printer. These became the stencil from which my plates were made.
American Born July 19, 1947 in Cranston, Rhode Island
Died September 8, 2012 in Pennsylvania
Connie Coleman was born in Cranston, RI. She earned her BFA and MAE from Rhode Island School of Design, Providence, RI. Her work has been exhibited at Abington Art Center, Jenkintown, PA; CEPA Gallery, Buffalo, NY; The Alternative Museum, New York City; Rutgers University, New Brunswick, NJ;  and the Carnegie Museum of Art, Pittsburgh, PA. Coleman received the Mid-Atlantic Regional Media Arts Fellowship.
Suggested Topics for Algebra I and Geometry
The resources provided can be used early on in an Algebra class to help students think in multiple dimen- sions. The artworks can be used to demonstrate illusions intended as a design element or to help students imagine space constructed or deconstructed from forms or shapes within a space. The ability to visualize concepts through art can make advanced math more accessible to students early on.
Some may want to use images in the Artura.org library to explore more complex uses of advanced math to create the illusions of space and solve spatial dynamic issues for three-dimensional works such as stand-alone sculpture and site-specific, public artworks. The laying of bricks or ceramic tiles is a skilled craft that can involve creativity and innovation in bricks or tiles are set and many available options in color, design, and texture are used. Sculptors such as Melvin Edwards, Richard Hunt, and John T. Scott have consistently used higher math concepts in the creation of large scale, space-defining public art.