Louis Delsarte's 1995 offset lithographic print Unity is the painted portrait of a family photo. A woman, the mother, sits in her cushioned chair. Her two eldest children stand at her feet facing forward while her young infant sits backward on her lap. The father stands tall behind his wife, wrapping his broad arms around her, coveting her and their family. Thin lines and patterns are used to create patterns and texture within the print.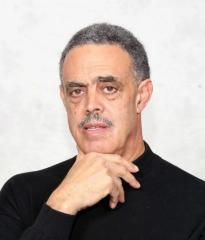 American Born September 1, 1944 in New York, NY
Died May 2020 in Atlanta, GA
New York City-born painter, draftsman, muralist, printmaker, and poet Louis Delsarte earned his BFA from Pratt Institute, Brooklyn; an MFA from the University of Arizona, Tucson; and certification in Fine Arts Education from Brooklyn College. His work can be found in the collection of Clark Atlanta University Art Museum, on U.S. postage stamps, and in large-scale public murals in New York City and Atlanta. He is an associate professor of arts and humanities at Morehouse College, Atlanta, where he maintains his studio near historic Auburn Avenue.
Suggested Topics for Portraiture (in studio art and art history education), Visual Narratives, and Expressive Writing
Portraiture (in studio art and art history education), Visual Narratives, Expressive Writing:
The use of words or a combination of words, symbols, and human images to convey deeply felt emotions.
Creative people — artists, musicians, dancers, and writers — often create new works bearing witness to the death of a loved one, especially when it is a tragic death or the result of a catastrophic event like an environmental or health disaster such as COVID-19.