This print by Eugene Grigsby is an exploration of motherhood, a mother's role as protector, and love of

humankind, and is an xpression of maternal beauty and strength.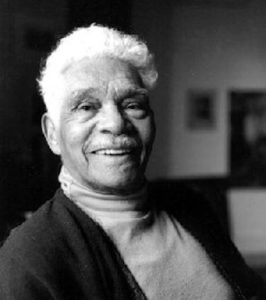 American Born October 15 1918 in Greensboro, NC
Died June 9, 2013
Painter, printmaker, and scholar J. Eugene Grigsby was born in Greensboro, NC. He earned a BA from Morehouse College, Atlanta, an MA from Ohio State University, Columbus, and a PhD in art education from New York University. Grigsby also studied at the American Artists School, New York City, and the École des Beaux-Arts de Marseilles, France. After five decades on the faculty of Arizona State University, Tempe, Grigsby retired as professor emeritus. He was the first Black author and artist to publish a book for art educators, Art & Ethnics: Background for Teaching Youth in a Pluralistic Society. He was known for initiating art programs in community centers, housing projects, and daycare centers in the Phoenix area and for serving on the boards of several organizations including the National Art Education Association and the Committee on Minority Concerns.
Suggested Topics for Portraiture (in studio art and art history education), Visual Narratives, and Expressive Writing
Portraiture (in studio art and art history education), Visual Narratives, Expressive Writing:
The use of words or a combination of words, symbols, and human images to convey deeply felt emotions.
Creative people — artists, musicians, dancers, and writers — often create new works bearing witness to the death of a loved one, especially when it is a tragic death or the result of a catastrophic event like an environmental or health disaster such as COVID-19.