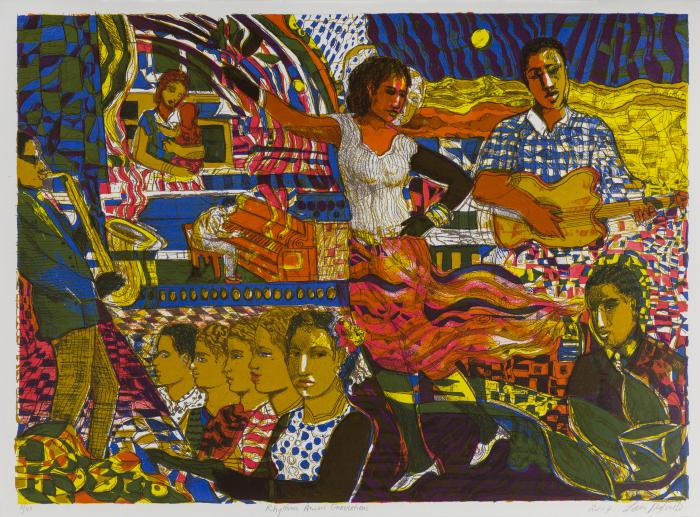 Rhythms Across Generations
A lithograph print by Louis Delsarte published by BWA in 2019. The image and title refer to the artist's parents, their generation of the 1940s-50s, the music, dancing, Harlem (NY) Resistance, and its impact on culture and community. "I am also thinking about my own generation growing-up in Bed-Stuy and Crown Heights in Brooklyn, NY in the 1960s-70s". The vision of waves reflects the movement of time passing- the styles of dress, hair, and music. The dominant female in the blue dotted dress in the lower section of the print reminds Delsarte of his mother and the stories she told and nostalgia of her generation, especially the ladies such as Billie Holiday and Lena Horne, and the joyful interactions among people in the black community.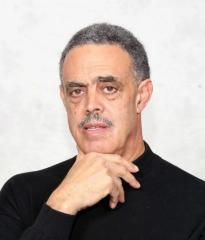 American September 1, 1944 in New York, NY
New York City-born painter, draftsman, muralist, printmaker, and poet Louis Delsarte earned his BFA from Pratt Institute, Brooklyn; an MFA from the University of Arizona, Tucson; and certification in Fine Arts Education from Brooklyn College. His work can be found in the collection of Clark Atlanta University Art Museum, on U.S. postage stamps, and in large-scale public murals in New York City and Atlanta. He is an associate professor of arts and humanities at Morehouse College, Atlanta, where he maintains his studio near historic Auburn Avenue.
Suggested Topics for Portraiture (in studio art and art history education), Visual Narratives, and Expressive Writing
Portraiture (in studio art and art history education), Visual Narratives, Expressive Writing:
The use of words or a combination of words, symbols, and human images to convey deeply felt emotions.
Creative people — artists, musicians, dancers, and writers — often create new works bearing witness to the death of a loved one, especially when it is a tragic death or the result of a catastrophic event like an environmental or health disaster such as COVID-19.