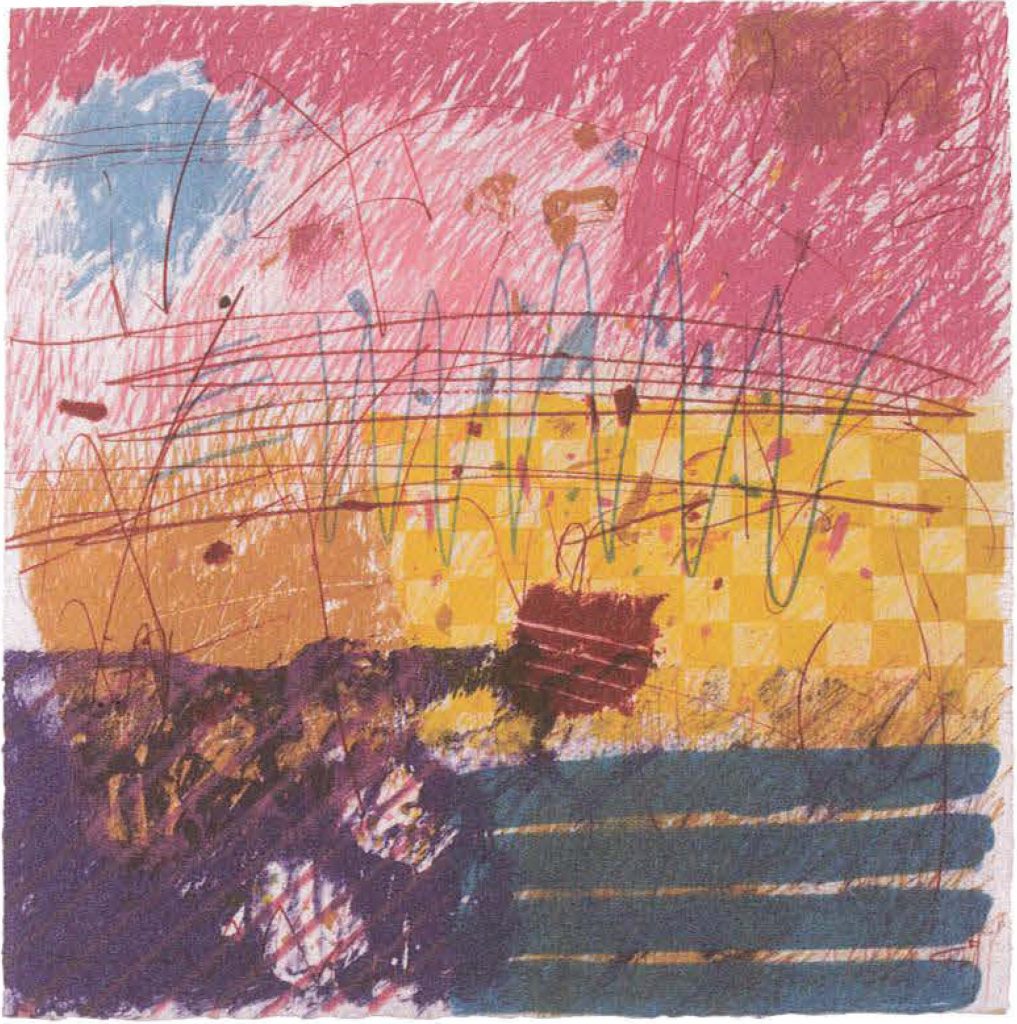 The title of this print, And Then You Just Smile, sounds like … the refrain of an old song. Can you see how the artist Moe Brooker moved his hand in one direction and then another? It seems as if he drew this work quickly, freely, and with vigor, imbuing it with an air of spontaneity and freshness. First impressions aside, this abstract image is structured the way great jazz compositions and improvisations are-controlled but also free. Pink and yellow rectangles fill two thirds of the space, contrasting with the darker shapes stretching across the bottom. A puff of light blue, like a little cloud in the sky, draws the eye upward. In the center, light and dark yellow squares recede into the background. To complete the work, the artist drew thin lines zipping across the center foreground, all straight except for the blue one bouncing through the air with rhythm and exuberance. The layering of colors, various lines, and forms seems to describe the The layering of colors, various lines, and forms seems to describe the interrelation of sounds and notes coming from different instruments as they are played together.
"Painting is about making visible a thought or idea."

– Moe Brooker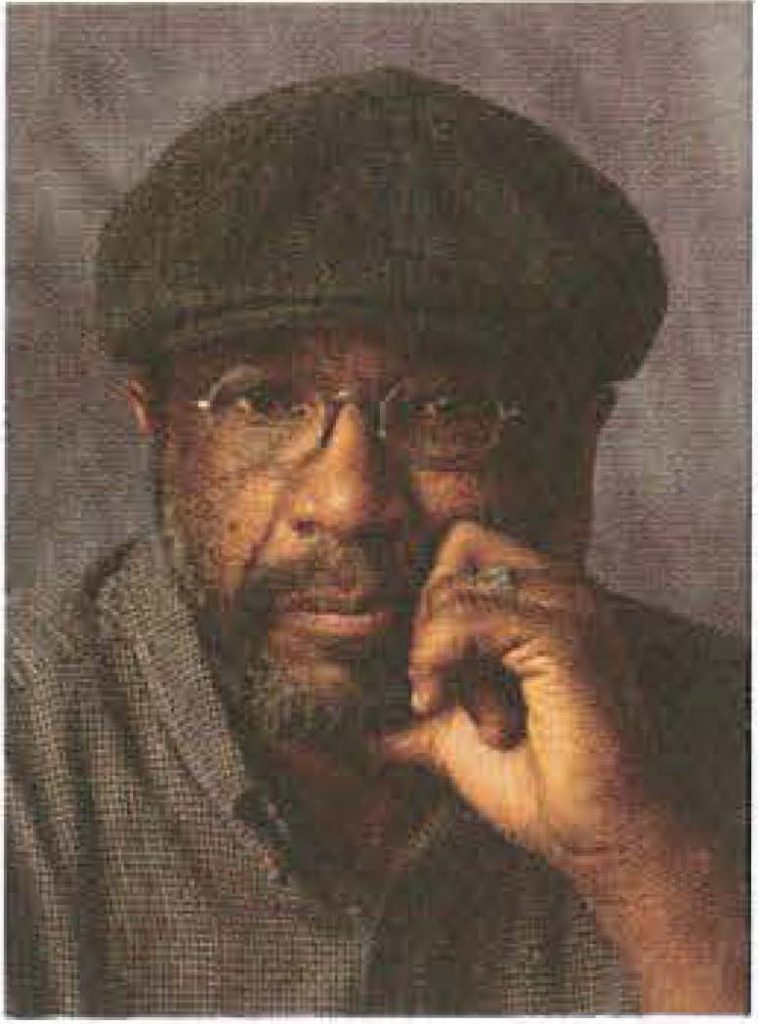 American
Born Philadelphia, 1940
Moe Brooker was raised and educated in Philadelphia. He received his bachelor of fine arts (BFA) and master of fine arts (MFA) degrees from Tyler School of Art at Temple University, and is currently a professor at Moore College of Art and Design. A celebrated artist and renowned educator, Professor Brooker has taught in numerous places, including Europe and Asia. Many cultural and personal influences have shaped his work but none more than his African American heritage. He looks to music for inspiration, especially jazz and sacred song. Music conveys mood and meaning through rhythm and notes, while his abstract paintings, drawings, and prints communicate those ideas with color, line, and shape.
Suggested Topics for Art Projects, Group Discussion, and Independent Writing
Visual Expression
Explore visual expression by creating an abstract painting, drawing, or print. While listening to various music selections, paint or draw to the rhythm, energy, and mood. Discuss why particular colors, shapes, lines, and other elements capture the feel of the music. As an extension, create a color monoprint based on your drawing.
Compare and Contrast Artworks
Both Moe Brooker and Vincent D. Smith have created prints that evoke music and sound. Compare and contrast these prints. What kind of music does each evoke? How does each artist convey these feelings and sounds? Which has more resonance for you? Why? What type of music or musical event would most inspire you to make an artwork? Track your findings on a Venn diagram.
Analysis and Dialogue
If two distinctly different lines (or shapes or colors) in Brooker's print could have a conversation, what would they say to each other? Create a dialogue between them. Have them introduce themselves to each other, and explain why the artist put them in the scene.
In Your Opinion
"Painting is about making visible a thought or idea."
Consider Brooker's quote about his artwork. In your opinion, does And Then ... You Just Smile reflect the spirit of his words? How? If not, why not?
Brooker has said that the neighborhood where he grew up could be a dangerous place. He later added, "Artwork allowed me to say a lot about the world around me in a safe way." Think about challenging issues in your world. How can you address these concerns through art, writing or music?