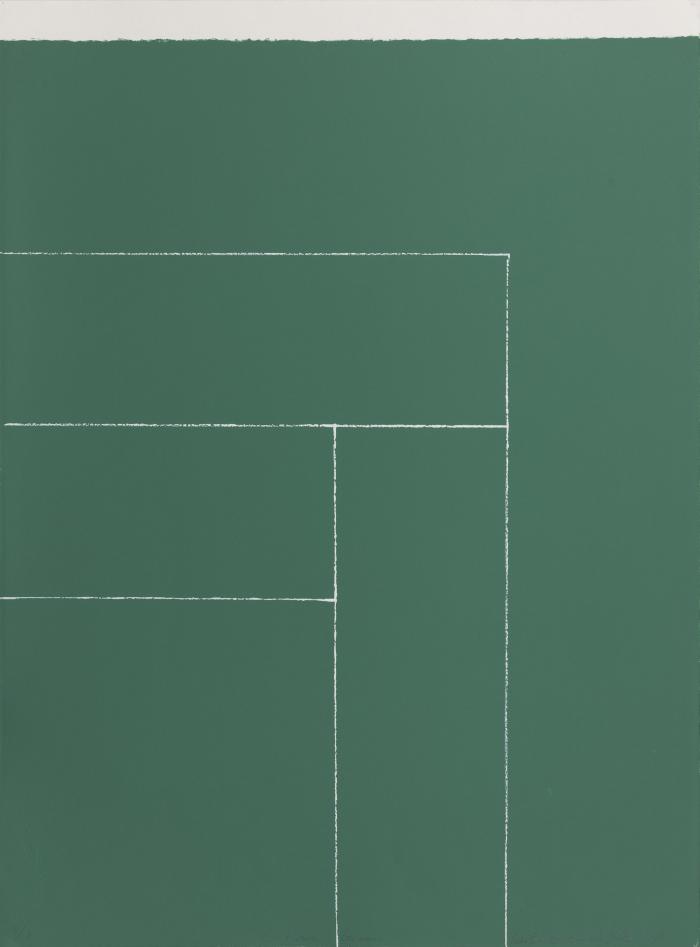 This minimalist image suggests the markings on a tennis  court or, perhaps, a street-grid showing planned roads  and pathways.  
The advent of aerial photography (see the work of French  balloonist and photographer Gaspard-Felíx Tournachon,  known as Nadar) in the mid-19th century led to the 20th century development of the science of "remote sensing":  
gathering information about an object or place from a  distance (Evelyn L. Pruitt, 1960). This scientific and techn ological progress provided artists with new examples and  tools for creating art—images of the built environment,  especially—from new perspectives
My painterly intention is not the discovery or introduction of new things as it can be seen in the historical context of art, whether it is derived from the outside world or inside one's mind. Then, how do I accomplish the task I have undertaken and image making? The painterly issue is the fusion of or the attempt to deal with what may be considered the conflict between the attitude of denial toward the norm and picture making and the desire to paint.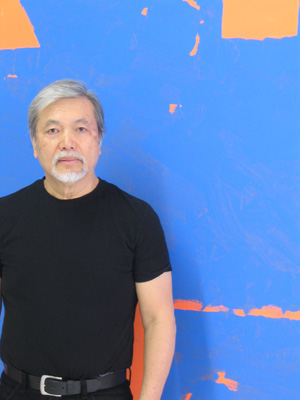 Born March 15, 1938 in Machida, Tokyo, Japan
Died July 17, 2010
Japanese painter, printmaker, and mural artist Hitoshi Nakazato was born in Machida, Tokyo. He earned a BFA from Tama Art University in Tokyo, an MS in Art from the University of Wisconsin, and an MFA from the University of Pennsylvania's Graduate School of Fine Arts. He received the John D. Rockefeller III Fund Grant to work in Manhattan, Creative Artist's Public Service grant from New York State, and a Japan/United States Consortium for Environmental Planning and Design grant from Ohio State University. Nakazato's work has been exhibited in many institutions including Machida City Museum of Graphic Arts in Tokyo, Japan; Keikando Gallery at Obirin University in Tokyo, Arthur Ross Gallery at the University of Pennsylvania, Muramatsu Gallery in Tokyo, Gallery Juliet in Trieste, Italy; Nesbit Gallery at Drexel University in Philadelphia, Pennsylvania; Pennsylvania Academy of Fine Arts, and Brandywine Workshop and Archives in Philadelphia, Pennsylvania. His work is in the collections of institutions including the Museum of Modern Art in New York, the Philadelphia Museum of Art, Museum of Modern Art in Kyoto, Japan; Pennsylvania Academy of Fine Art in Philadelphia, National Gallery of Art in Washington, DC; Tokyo Metropolitan Museum of Art, Birmingham Museum of Art in Alabama, Tikotin Museum of Haifa Museum in Israel and Machida City Museum of Graphic Arts in Machida, Tokyo. He lived in Manhattan and was a professor of art at the University of Pennsylvania until his death in 2010. In 2013, Nakazato's works were included in a group show entitled Machida Connection at the Machida City Museum of Graphic Arts.
Suggested Topics for Algebra I and Geometry
The resources provided can be used early on in an Algebra class to help students think in multiple dimen- sions. The artworks can be used to demonstrate illusions intended as a design element or to help students imagine space constructed or deconstructed from forms or shapes within a space. The ability to visualize concepts through art can make advanced math more accessible to students early on.
Some may want to use images in the Artura.org library to explore more complex uses of advanced math to create the illusions of space and solve spatial dynamic issues for three-dimensional works such as stand-alone sculpture and site-specific, public artworks. The laying of bricks or ceramic tiles is a skilled craft that can involve creativity and innovation in bricks or tiles are set and many available options in color, design, and texture are used. Sculptors such as Melvin Edwards, Richard Hunt, and John T. Scott have consistently used higher math concepts in the creation of large scale, space-defining public art.