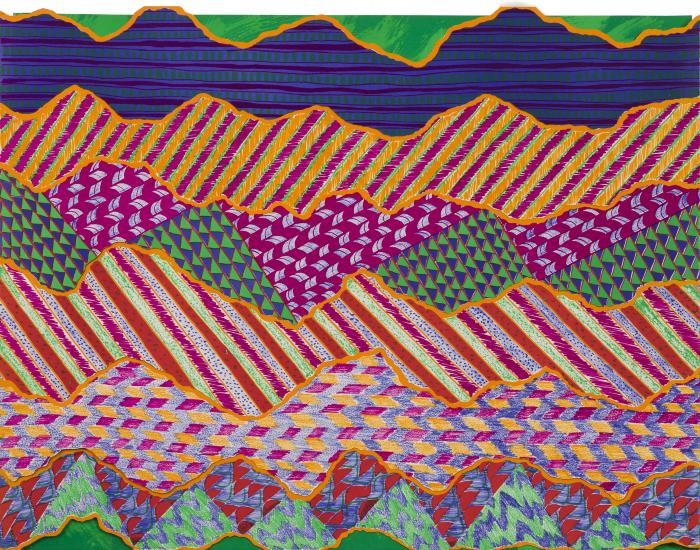 Untitled (Nannette Acker Clark)
Abstract representational landscape piece using lines that vary in width, direction, and color.
Philadelphia sculptor Nannette Acker Clark earned a BFA from the Pennsylvania Academy of the Fine Arts (PAFA), Philadelphia, and an MFA from University of the Arts, Philadelphia. Clark has exhibited widely at institutions throughout the United States, including the American Craft Museum (now the Museum of Arts and Design), New York City; Renwick Gallery of the Smithsonian American Art Museum, Washington, DC; American Jazz Museum, Kansas City, MO; African American Museum in Philadelphia; and PAFA. Her work is inspired by Congolese philosophical understandings, and related practices, that see the sun as a metaphor for the soul.
Suggested Topics for Algebra I and Geometry
The resources provided can be used early on in an Algebra class to help students think in multiple dimen- sions. The artworks can be used to demonstrate illusions intended as a design element or to help students imagine space constructed or deconstructed from forms or shapes within a space. The ability to visualize concepts through art can make advanced math more accessible to students early on.
Some may want to use images in the Artura.org library to explore more complex uses of advanced math to create the illusions of space and solve spatial dynamic issues for three-dimensional works such as stand-alone sculpture and site-specific, public artworks. The laying of bricks or ceramic tiles is a skilled craft that can involve creativity and innovation in bricks or tiles are set and many available options in color, design, and texture are used. Sculptors such as Melvin Edwards, Richard Hunt, and John T. Scott have consistently used higher math concepts in the creation of large scale, space-defining public art.