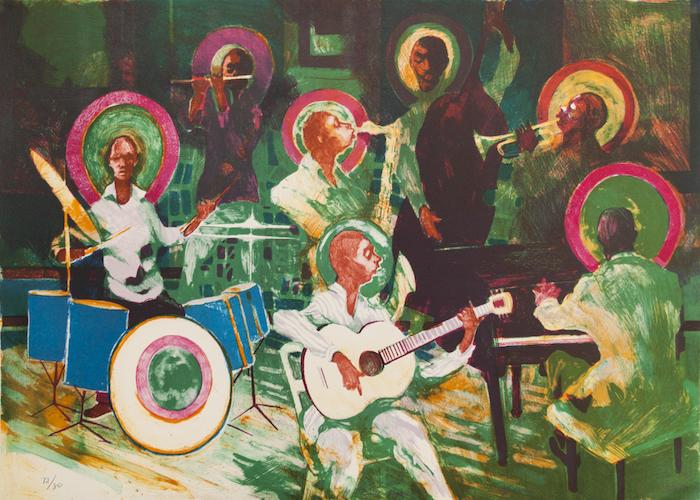 Paul Keene is well known as one of the earliest role models for African American professional artists in Philadelphia. He was the first African American graduate of the Tyler School of Art and was among the first artists to use the G.I Bill to travel to Paris in the late 1940s. Keene is a figurative painter known for his complex compositional arrangements and color schemes. Blues Band (1990) pays homage to blues music, which originated in the Southern Mississippi Delta early in the 20th century to express the joys and frustrations of African American life during this period of racial oppression. In Keene's print, each musician is given a halo to signify the spiritual nature of the music. The artist arranged the musicians across the picture plane to give maximum visual importance to their act of playing and to establish a formal visual relationship that forms a circle trying all of the players together. Keene uses colors, layered one over the other, to create a physical space that suggests that the musicians are floating on air.
Speculation is the only way possible for me to indicate why I follow one direction or another. Happenings on paper or canvas are predictable up to a critical point for me. Beyond this, intuition and instinct take over. I only know that any verbal statement can only give vague clues as to why I pursue a certain direction in working and thinking.
For me the subject matter simply becomes a vehicle used to help discover the mystery. Then the idea becomes the mystery that must be made real; it is the means by which I render some of what I assume I know with the unknown. I hang on and take the wild ride.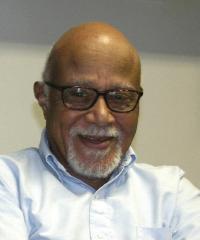 American Born August 24, 1920
Philadelphia, PA
Died November 26, 2009
Warrington, PA
Philadelphia-born painter, printmaker, and muralist Paul F. Keene, Jr. received a BFA, BS, and MFA from Temple University. He also studied at the Academie Julian in Paris, France. There he helped found Gallerie 8, a collective gallery for American artists working in Paris. After teaching at the Philadelphia College of Art, he went on to help establish the art department at Bucks County Community College, where he retired as Professor Emeritus. Keene's works can be found around the world in several institutions including the Philadelphia Museum of Art, the African American Museum in Philadelphia, the Pennsylvania Academy of the Fine Arts, James A. Michener Art Museum in Pennsylvania, the British Museum in London, the Nigerian National Museum, the Dallas Museum of Art, Tucson Museum of Art in Arizona, and the Woodmere Art Museum in Philadelphia, Pennsylvania. He lived and practiced his art in Warrington, Pennsylvania until his death.
Suggested Topics for Portraiture (in studio art and art history education), Visual Narratives, and Expressive Writing
Portraiture (in studio art and art history education), Visual Narratives, Expressive Writing:
The use of words or a combination of words, symbols, and human images to convey deeply felt emotions.
Creative people — artists, musicians, dancers, and writers — often create new works bearing witness to the death of a loved one, especially when it is a tragic death or the result of a catastrophic event like an environmental or health disaster such as COVID-19.