Hager's dress is among a suite of works by Taylor Pickett that reference the Middle Passage – the transport of African captives across the Atlantic as cargo for profit – as the foreground passages and crossings in life.  often uses garments, notably dresses, as metaphors or carriers of identity and life story. The dress becomes the corporeal  body for Pickett's larger narrative. In Hager's Dress, A familiar icon for human cargo on a slave ship is used to like a block print to animate and ornament the surface plane that courses over the yellow dress-as-portal image. For the artist, Hagar's dress embodies both the ancestral and the personal, through its title it will cause the biblical figure Hagar.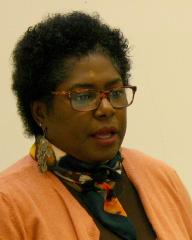 American Born August 13, 1948
Ann Arbor, MI
Janet Taylor-Pickett is a painter and printmaker born in Ann Arbor, Michigan. She earned her BFA and MFA from the University of Michigan, School of Architecture and Design. Taylor-Pickett also continued her studies at Parsons School of Design in New York, Fashion Institute of Technology (FIT) in New York, and the Vermont Studio Center. Her work can be found in collections across the United States including the Studio Museum in Harlem, New York; the Schomburg Center of African American Culture in New York City, Rutgers University in New Jersey, the University of Michigan, Ann Arbor School of Social Work, Bristol-Myers Squibb Pharmaceutical Company, the Philadelphia Museum of Art, the University of Texas at Austin, and Harvard University Museums. A long-time resident of New Jersey, Taylor-Pickett mover later in her career to Los Angeles where she continues her studio practice.
Suggested Topics for World History and Visual Literacy
World History, Visual Literacy
The archives of history have manifold reference points and are opening up to public access to offer new narratives based on the documents and evidence that exist, including first- person notes and recorded interviews. As new resources become available and new evidence comes to light, an "archival fever" has arisen among artists who incorporate found photographs and documents into their artwork and offer profound, documented evidence and versions of history that may have been hidden, denied, or misrepresented previously.

Our abilities as viewers to understand the messages and connections that the artists hope their imagery will convey is largely based on the extent of our own experi- ences and information that we bring to viewing and interpreting the artwork. In many countries, these types of messages are not brought to broad public attention and are often considered subversive.