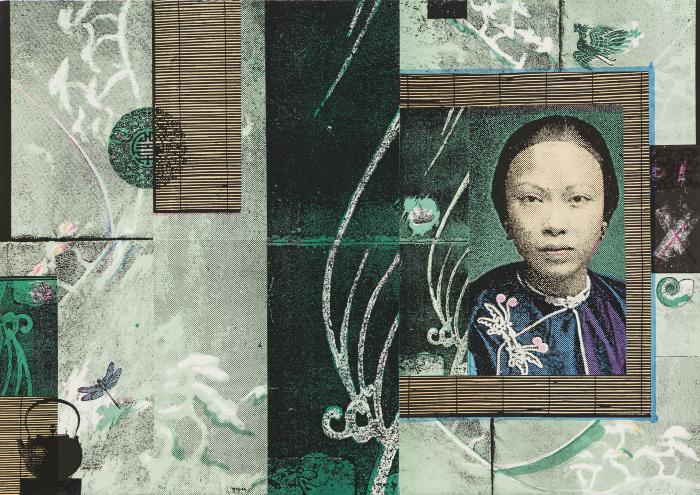 Portrait of a Young Woman
Portrait of a Young Woman is one of a series of portraits I have created which were based on archival photographs of Asian women. Although little is known about the real woman in the print, her face inspired a fictional narrative about the subject's history (Japanese American internment camps during WWII). Portraiture, as a form of biography, is part of a body of work which attempts to reveal the presence of an inner life in subjects that have often been dehumanized and culturally stereotyped. Portraiture in this context serves as a way to present positive images of Asians in America, who are seen in relation to work, family and the community.
"As an Asian American artist, I am primarily interested in locating the human experience in historic events and drawing personal meaning from the past. Towards this end, I have relied heavily on first-hand accounts, family archives and historic photographs to create new narratives about the Asian diaspora in the Americas. These visual narratives help me to explore the relationship between memory, art and history and provide a personal sense of connection to the world around me.

Portrait/Young Woman' is one of a series of portraits I have created which were based on archival photographs. Through the use of autobiography, family stories and photographs, historical material and oral histories, I create works on paper/ pages of 'living' history centered in the experiences of people whose voices have not been heard.

Throughout my work, visual references are made to the screens, scrolls and motifs found in traditional Asian art. These references serve as a link between the past and the present, the exotic and the ordinary, and the foreign and the familiar. As a visual artist, I use the specificity of my experience as an Asian American as a personal space in which to locate broader issues of race and gender; a space through which a glimpse of common ground is made possible."

Unlike many younger artists who developed their love of printmaking as students in university printmaking departments, I learned how to etch and silkscreen from working alongside other artists in shops like Bob Blackburn's Printmaking Workshop and the Lower East Side Printshop in the 1970's– unconventional workspaces and printmaking centers for artists experimenting with the printed image. Brandywine Workshop provided the added experience of a residency embedded in South Philadelphia which gave artists the time and space to engage in creative collaborations with their professional offset printers.

Because of my rich history with these shops, printmaking has always been tied closely to the notion of an artist community supported and energized by the existence of these important non-profit work spaces. At a time when printmaking, as a genre, has been displaced by digital technology, I am grateful to Brandywine Workshop for keeping printmaking alive, and for continuing to give printmakers one of the finest opportunities to share their work and their collective vision for a more diverse and equitable art world."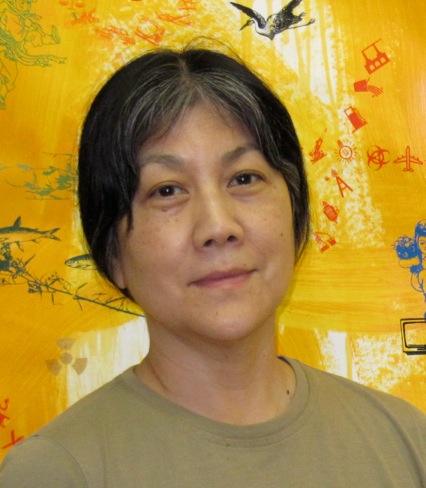 American Born August 30, 1999
New York, NY
Born in New York City, Tomie Arai has designed both temporary and permanent public works of art for Creative Time, U.S. General Services Administration Art in Architecture Program, NYC Percent for Art Program, Cambridge Arts Council, MTA Arts for Transit Program, New York City Board of Education, Lower Manhattan Cultural Council, and the San Francisco Arts Commission.

Arai's work has been exhibited nationally and her works on paper are included in the collections of the Library of Congress; Bronx Museum of the Arts; Japanese American National Museum, Los Angeles; Williams College Museum of Art, Williamstown, MA; and Museum of Modern Art and the Whitney Museum of American Art, New York City. She is a recipient of two New York Foundation for the Arts Fellowships in Printmaking, Joan Mitchell Visual Arts Grant, National Endowment for the Arts Visual Arts Fellowship for Works on Paper, and three Mid Atlantic Arts Foundation Visual Artists Residency Grants. In 2000, Arai was one of 50 artists nationwide to participate in the Artists & Communities: America Creates for the Millennium project, sponsored by the Mid Atlantic Arts Foundation and the NEA. She also received a National Lifetime Achievement Award from the Women's Caucus for Art in 2016. In 2019 she received the McLaughlin Award for Social Engagement. Arai lives and works in New York City.
Suggested Topics for World History and Visual Literacy
World History, Visual Literacy
The archives of history have manifold reference points and are opening up to public access to offer new narratives based on the documents and evidence that exist, including first- person notes and recorded interviews. As new resources become available and new evidence comes to light, an "archival fever" has arisen among artists who incorporate found photographs and documents into their artwork and offer profound, documented evidence and versions of history that may have been hidden, denied, or misrepresented previously.

Our abilities as viewers to understand the messages and connections that the artists hope their imagery will convey is largely based on the extent of our own experi- ences and information that we bring to viewing and interpreting the artwork. In many countries, these types of messages are not brought to broad public attention and are often considered subversive.