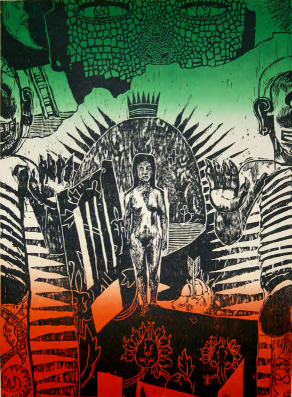 This print depicts a celebration of Jonkonnu, an annual masquerade and dance tradition dating back to the time of African slavery in the seventeenth century. It's associated with Jamaica and other islands in the Caribbean, as well as some southern areas of the United States. Usually held around Christmastime, Jonkonnu provided enslaved people the opportunity to abandon their harsh labors for a day of fes­tivity, parading with music and dance drawn from their African origins.
Hear the music! Feel the rhythm! Move to the beat! In this image, Smith captures the energy of African folk dance. The momentum begins at the top of this image and grows as marchers strut with their arms, feet, and hips in motion. Pulsating with rhythm, drama, and wit, Jonkonnu is a mimed performance with each character in elaborate costume. Cowhead, a main role, is recognized by its long horns; here, it strides across the foreground on stilts. With undulating lines, jazzy patterns, and bright colors, Jonkonnu Festival celebrates a cultural tradition that helped sustain a people through difficult times of oppression centuries ago.
"And when I thought of myself as a painter, I dreamed of myself as a great painter."

-Vincent D. Smith, 1999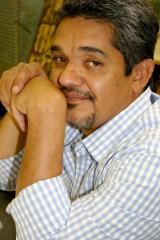 American Born January 11, 1964 in El Paso, TX
Danny Alvarez is a Mexican-American mural painter and printmaker born in El Paso, TX. He received an MFA in printmaking from Tyler School of Art and Architecture at Temple University, Philadelphia. His art is in the collections of the Arizona State Museum, University of Texas-Austin, and Philadelphia Museum of Art, among others. 
Suggested Topics for World History and Visual Literacy
World History, Visual Literacy
The archives of history have manifold reference points and are opening up to public access to offer new narratives based on the documents and evidence that exist, including first- person notes and recorded interviews. As new resources become available and new evidence comes to light, an "archival fever" has arisen among artists who incorporate found photographs and documents into their artwork and offer profound, documented evidence and versions of history that may have been hidden, denied, or misrepresented previously.

Our abilities as viewers to understand the messages and connections that the artists hope their imagery will convey is largely based on the extent of our own experi- ences and information that we bring to viewing and interpreting the artwork. In many countries, these types of messages are not brought to broad public attention and are often considered subversive.