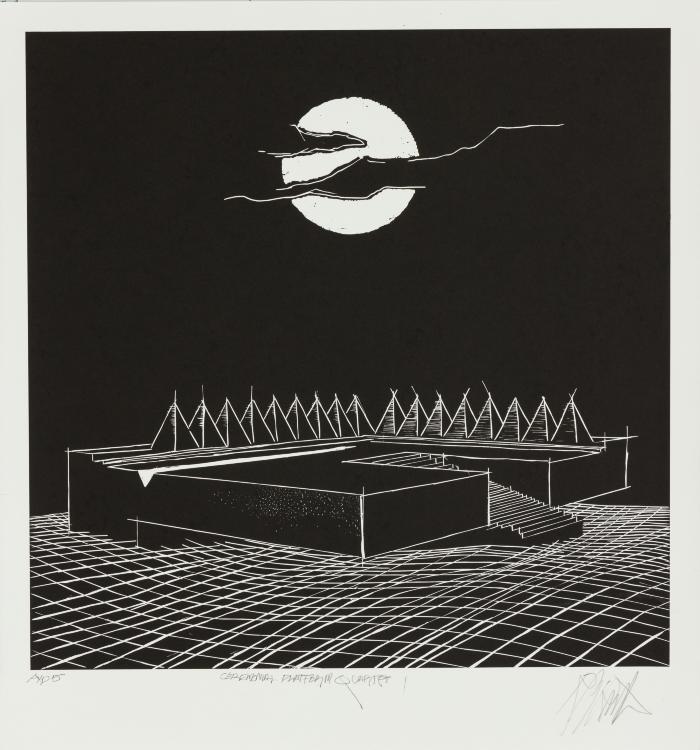 Ceremonial Platform Quartet 1
Robert Roesch's Ceremonial Platform Quartet I  is a print featuring a geometric rugged landscape. In the center ground, is a platform with stairs and steep pyramid like features. The moon is visible in the sky above the scene, slighty obstructed by clouds.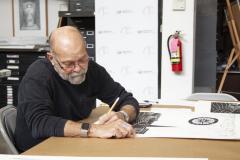 Born June 25, 1946 in New York
Sculptor and professor, Robert Roesch was born in New York. He earned a BA from the State University of New York at Farmingdale and a BFA from Pratt Institute.

He received twelve grants, including a Fulbright Specialist Award in Japan, and to represent the United States in the Baku Biennial in 2009. His work is in museum collections nationally and Internationally including the Philadelphia Museum of Art; Paper Museum in Tokyo, Japan; Kyoto Institute of Technology Museum in Kyoto, Japan; Biblioteca Alexandria Museum in Alexandria, Egypt; McAllen International Museum in McAllen, Texas; and Glasmuseum Ebeltoft in Denmark. He has also completed twenty major public art projects in the United States including the Gateway to the City of Wichita Kansas and the entrance to Texas A&M University in Corpus Christi.

Roesch and his wife, artist Suzanne Horvitz, were the Cultural Advisors to The United States Embassies in Azerbaijan, Egypt, Syria, Argentina, Ecuador, and Myanmar. Their collaborative sculpture Transduction is a permanent installation at Grounds For Sculpture in Hamilton, New Jersey. He was also invited to the 2007 and 2009 Biennials in Egypt.

Roesch is Chair of Sculpture at the Pennsylvania Academy of the Fine Arts where he teaches a Sculpture Seminar on Digital Imaging. He is also a member of the Philadelphia Art and Architecture Commission. He currently splits his time between Philadelphia and his studio in the New Jersey Pinelands near Hammonton.
Suggested Topics for Algebra I and Geometry
The resources provided can be used early on in an Algebra class to help students think in multiple dimen- sions. The artworks can be used to demonstrate illusions intended as a design element or to help students imagine space constructed or deconstructed from forms or shapes within a space. The ability to visualize concepts through art can make advanced math more accessible to students early on.
Some may want to use images in the Artura.org library to explore more complex uses of advanced math to create the illusions of space and solve spatial dynamic issues for three-dimensional works such as stand-alone sculpture and site-specific, public artworks. The laying of bricks or ceramic tiles is a skilled craft that can involve creativity and innovation in bricks or tiles are set and many available options in color, design, and texture are used. Sculptors such as Melvin Edwards, Richard Hunt, and John T. Scott have consistently used higher math concepts in the creation of large scale, space-defining public art.