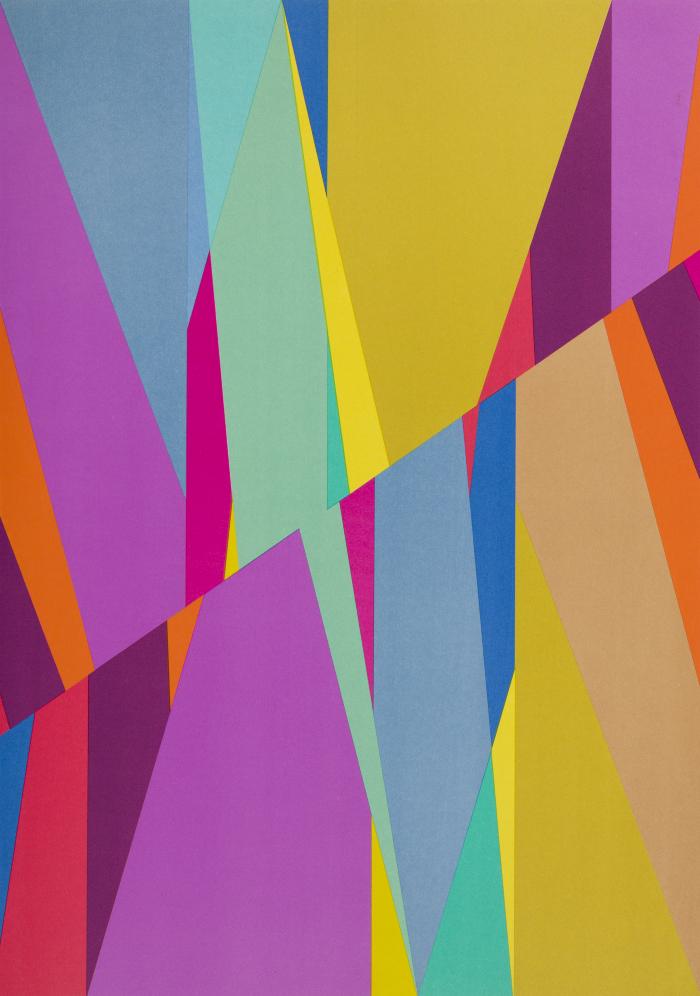 Cut is a colorful abstract piece painted by Odili Donald Odita. Odita's abstract paintings combine hard-edged bands of color with an earthy African palette, in patterns that also suggest West African textiles. Wide lines of yellows, purples, pinks, reds, and blues stretch across to the middle of the page where they clash into a horizontal line. 
The organization and patterning in the paintings are of my own design. I continue to explore in the paintings a metaphoric ability to address the human condition through pattern, structure and design, as well as for its possibility to trigger memory. The colors I use are personal: they reflect the collection of visions from my travels locally and globally. This is also one of the hardest aspects of my work as I try to derive the colors intuitively, hand mixing and coordinating them along the way. In my process, I cannot make a color twice- it can only appear to be the same. This aspect is important to me as it highlights the specificity of differences that exist in the world of people and things.
Painter, printmaker and muralist Odili Odita was born in Enugu, Nigeria. He received a BFA from Ohio State University and an MFA from Bennington College in Vermont. His work can be found in permanent collections, including those of the Birmingham Museum of Art in Alabama, the Pérez Art Museum in Miami, the Nasher Museum of Art in Durham, North Carolina; the New Orleans Museum of Art, the Pennsylvania Academy of the Fine Arts (PAFA) in Philadelphia, and the Studio Museum in Harlem. Odita has created several public works including The Wisdom of Trees (2016) in Indianapolis, Our House (2015) for the City of Philadelphia Mural Arts Program, and Shadow and Light (2015) for the Nasher Museum of Art. He lives and works in Philadelphia, Pennsylvania. His work in PAFA's collection is Future Perfect (2009). He is a professor of painting at Tyler School of Art and Architecture at Temple University.
Suggested Topics for Algebra I and Geometry
The resources provided can be used early on in an Algebra class to help students think in multiple dimen- sions. The artworks can be used to demonstrate illusions intended as a design element or to help students imagine space constructed or deconstructed from forms or shapes within a space. The ability to visualize concepts through art can make advanced math more accessible to students early on.
Some may want to use images in the Artura.org library to explore more complex uses of advanced math to create the illusions of space and solve spatial dynamic issues for three-dimensional works such as stand-alone sculpture and site-specific, public artworks. The laying of bricks or ceramic tiles is a skilled craft that can involve creativity and innovation in bricks or tiles are set and many available options in color, design, and texture are used. Sculptors such as Melvin Edwards, Richard Hunt, and John T. Scott have consistently used higher math concepts in the creation of large scale, space-defining public art.