The portrait of a soldier with his eyes cast to the ground. He stands amid a colorful abstracted background. Although he stands alone, several shadows are cast near his, from men standing in front of him just out of reach.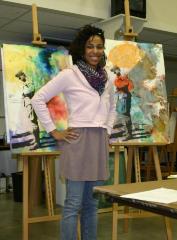 American Born June 24, 1982 in Durham, NC

Maya Freelon is an award-winning visual artist whose work was described by the late poet Maya Angelou as "visualizing the truth about the vulnerability and power of the human being." Cosmopolitan magazine featured her in its June 2015 "Art Stars" feature. She was commissioned by Google to design original art for their routers. She has been exhibited internationally and nationally, including shows in Paris, Jamaica, Madagascar, and Italy. She was named "Best of the City"  by Modern Luxury Magazine; and included by Huffington Post's "Black Artists: 30 Contemporary Art Makers Under 40 You Should Know" and Complex magazine's "15 Young Black Artists Making Waves in the Art World" features.
Suggested Topics for Portraiture (in studio art and art history education), Visual Narratives, and Expressive Writing
Portraiture (in studio art and art history education), Visual Narratives, Expressive Writing:
The use of words or a combination of words, symbols, and human images to convey deeply felt emotions.
Creative people — artists, musicians, dancers, and writers — often create new works bearing witness to the death of a loved one, especially when it is a tragic death or the result of a catastrophic event like an environmental or health disaster such as COVID-19.