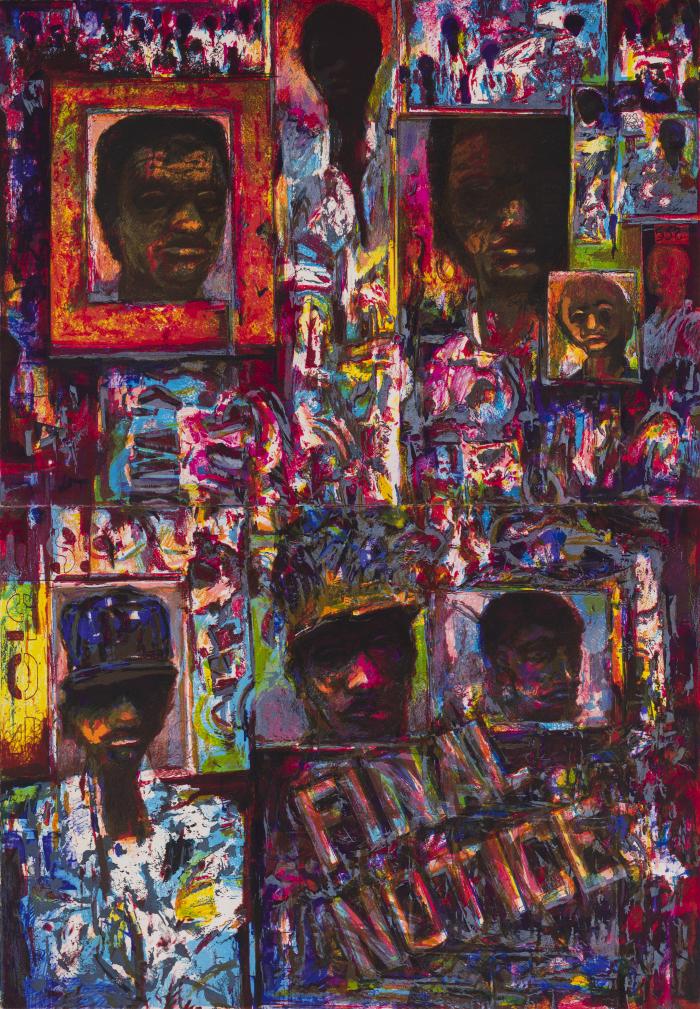 This original print is created from a series of 28 mylars hand drawn by artist Paul F. Keene Jr., and printed as 14 different translucent colors on Simpson 100% rag paper at the Brandywine Workshop, Philadelphia, PA, with the assistance from Robert Franklin, master printer, during July, August, and September 1996.
The print is related to Keene's "Urban Wall Series," a distinct body of works in which the artist reminisces about growing up in North Philadelphia during the 30s and 40s. While the images in that series reflect the deterioration of homes and family structures in what was once a middle-class mixed community, they also focus on the invisible wealth of spirit, cultural richness, and human assets that will ultimately change the community for the better. "Generations" offers us a series of windows in which people- churchmen, fathers, mothers, grandparents, neighbors and children- are connected in the extended family that is bound together by past struggles and the persistent hope that their children's future will be better.
Paul tags his art with the phrase "final notice" not to signify an end of past struggle but to proclaim and offer a challenge for a new beginning.
"Generations" offers viewers a set of windows in which men — churchmen, fathers, grandparents, and children — are connected in the extended family that is bound together by past struggles, common backgrounds, and the persistent hope that the future will be better. The phrase "Final Notice" is not to signify an end of past hardship, but to proclaim and offer a challenge for a new beginning that will break old cycles.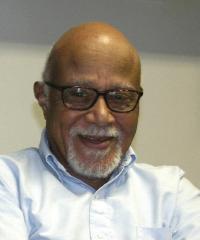 American Born August 24, 1920 in Philadelphia, PA
Died November 26, 2009 in Warrington, PA
Philadelphia-born painter, printmaker, and muralist Paul F. Keene, Jr. received a BFA, BS, and MFA from Temple University. He also studied at the Academie Julian in Paris, France. There he helped found Gallerie 8, a collective gallery for American artists working in Paris. After teaching at the Philadelphia College of Art, he went on to help establish the art department at Bucks County Community College, where he retired as Professor Emeritus. Keene's works can be found around the world in several institutions including the Philadelphia Museum of Art, the African American Museum in Philadelphia, the Pennsylvania Academy of the Fine Arts, James A. Michener Art Museum in Pennsylvania, the British Museum in London, the Nigerian National Museum, the Dallas Museum of Art, Tucson Museum of Art in Arizona, and the Woodmere Art Museum in Philadelphia, Pennsylvania. He lived and practiced his art in Warrington, Pennsylvania until his death.
Suggested Topics for World History and Visual Literacy
World History, Visual Literacy
The archives of history have manifold reference points and are opening up to public access to offer new narratives based on the documents and evidence that exist, including first- person notes and recorded interviews. As new resources become available and new evidence comes to light, an "archival fever" has arisen among artists who incorporate found photographs and documents into their artwork and offer profound, documented evidence and versions of history that may have been hidden, denied, or misrepresented previously.

Our abilities as viewers to understand the messages and connections that the artists hope their imagery will convey is largely based on the extent of our own experi- ences and information that we bring to viewing and interpreting the artwork. In many countries, these types of messages are not brought to broad public attention and are often considered subversive.