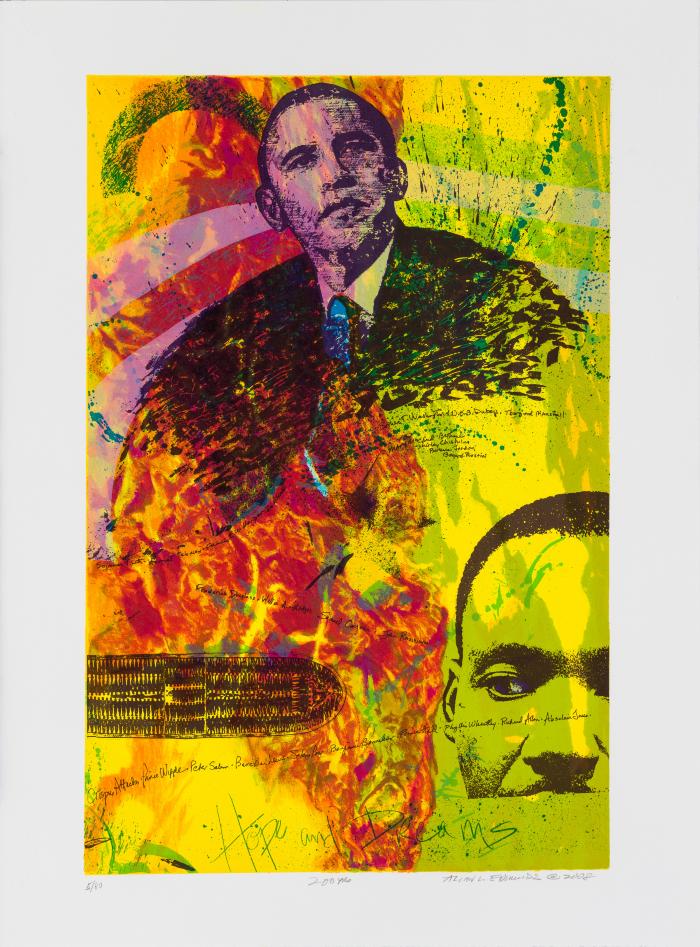 This print celebrates the election of Barack Obama as the first Black and 44th president of the United States. It also pays homage to all the exceptional and courageous people who preceded Obama and made his election possible two hundred years after the Slave Act of 1808 which — while not abolishing slavery — prohibited new importation of enslaved Africans directly to the U.S. From slavery to Lincoln, Gandhi, King, Mandela, Obama, and the Arab Spring—global movements inspired nonviolent protests against racism, economic oppression, and militarism. In this way, these movements are connected across generations.
This print celebrates the historic election of Barack Obama in 2008 as president of the United States and traces the legacy created by others and their work in advancing the African American community in the U.S. Two -hundred years since the Slave Act of 1808, originally placed in the constitution as a 20- year wait period before the presence of Afrcan slaves would be acknowledged in the U.S. In order to get slave states' approval of the constitution, it was agreed that in 1808, the U.S. would no longer accept slaves directly "imported" from  Africa, causing slave ships to subvert this law by changing their manifest to suggest slaves (their cargos) were imported from the Caribbean after a stop-over for this purpose in countries such as Cuba. Within the print image there's the iconic image of the slave ship where Africans were packed in to maximize cargo hold capacity. Martin Luther King Dream and Obama's legacy of Hope were possible because of the triumphs of those who came before them in the struggle for civil rights and social justice such as  key orators, writers-authors, academics, community leaders and politicians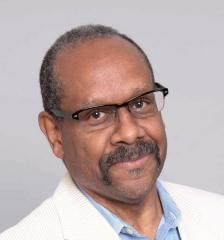 American Born June 7, 1949
Philadelphia native Allan L. Edmunds earned his BFA and MFA at Temple University's Tyler School of Art and Architecture, Philadelphia, and is the founder of Brandywine Workshop and Archives. His priorities have always been education and mentoring young adults as well as advancing multiculturalism in the art world at the highest level — locally, nationally, and internationally — through art education and art creation in collaborative settings. For him, the highest form of creativity occurs when an artist creates something that expresses their authentic experience or viewpoint in a way that others understand and value.
Edmunds' art is included in the permanent collections of the African American Museum in Philadelphia; Renwick Gallery at the Smithsonian American Art Museum, Washington, DC; Philadelphia Museum of Art; Harvard University Museums, Cambridge, MA; University of Texas-Austin; and Pennsylvania Academy of the Fine Arts, Philadelphia.
He is a recipient of Pennsylvania Council on the Arts and National Endowment for the Arts artist fellowships and was honored with the Education Achievement Award of The Print Center of Philadelphia. He is a former Getty Museum Management Fellow and Senior Research Associate in printmaking and computer graphics at the South Glamorgan School of Art, Cardiff, Wales. Edmunds worked tirelessly to bring the Artura.org website into existence and served as its interim director for over a decade of planning, implementation, and initial operation. Edmunds personal archives are housed at the Charles L. Blockson Collection at Temple University, Philadelphia.
VIDEO: How Allan Edmunds started Brandywine Workshop and Archives
Suggested Topics for World History and Visual Literacy
World History, Visual Literacy
The archives of history have manifold reference points and are opening up to public access to offer new narratives based on the documents and evidence that exist, including first- person notes and recorded interviews. As new resources become available and new evidence comes to light, an "archival fever" has arisen among artists who incorporate found photographs and documents into their artwork and offer profound, documented evidence and versions of history that may have been hidden, denied, or misrepresented previously.

Our abilities as viewers to understand the messages and connections that the artists hope their imagery will convey is largely based on the extent of our own experi- ences and information that we bring to viewing and interpreting the artwork. In many countries, these types of messages are not brought to broad public attention and are often considered subversive.