The drawn figure of an African American man is broken and spaced between hatched blue and white stripes. The words "My country needs me and if I were not here I would have to be invented" take space at the top and bottom of the print. A brown hatched perimeter creates the illusion of a frame around the image.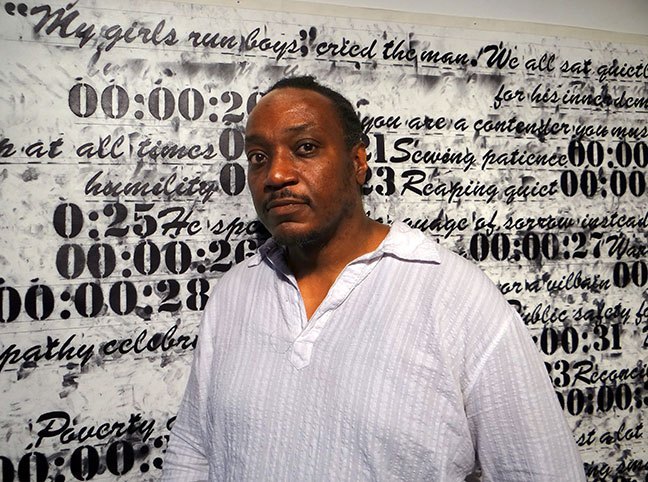 American Born November 20, 1964
Rodney Ewing is a printmaker based in San Francisco, CA. He earned a BFA from Louisiana State University, Baton Rouge, and an MFA from West Virginia University, Morgantown. His practice focuses on intersecting the body, place, memory, and fact to reexamine human histories and cultural traditions. Ewing's work has been exhibited at the Euphrat Museum of Art, Cupertino, CA; The Drawing Center, New York City; and The Jack Fischer Gallery, New York City. Ewing teaches at San Francisco Day School.
Suggested Topics for World History and Visual Literacy
World History, Visual Literacy
The archives of history have manifold reference points and are opening up to public access to offer new narratives based on the documents and evidence that exist, including first- person notes and recorded interviews. As new resources become available and new evidence comes to light, an "archival fever" has arisen among artists who incorporate found photographs and documents into their artwork and offer profound, documented evidence and versions of history that may have been hidden, denied, or misrepresented previously.

Our abilities as viewers to understand the messages and connections that the artists hope their imagery will convey is largely based on the extent of our own experi- ences and information that we bring to viewing and interpreting the artwork. In many countries, these types of messages are not brought to broad public attention and are often considered subversive.